KUALA LUMPUR, 10 Oct '22 – MIC held its 76th AGM at MITEC, Jalan Duta today, with attendance of approximately 4000 MIC leaders from all over the country. This AGM was officiated by BN chairman, Datuk Seri Ahmad Zahid Hamidi.
Also present were Umno deputy president Datuk Seri Mohamad Hasan, BN secretary-general Datuk Seri Dr Zambry Abdul Kadir, BN treasurer-general Datuk Seri Hishammuddin Hussein and MCA president Datuk Seri Dr Wee Ka Siong.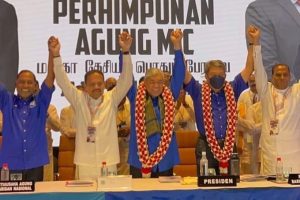 The plight of students who obtained 4.0 CGPA in STPM and was denied medical seats at local universities had deeply affected MIC President and Special Envoy of the Prime Minister to South Asia, His Excellency Tan Sri Dato Seri' S. A. Vigneswaran.
Speaking at the AGM, Tan Sri Dato Seri S.A. Vigneswaran who firmly believes that education is vital to transform the community has announced 50 medical seats at AIMST University for students from B40 group who obtained 4.0 CGPA in STPM to pursue medicine with full scholarships from MIC.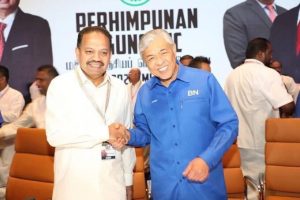 "I want to emphasise that MIC will always ensure that students with excellent academic results will be given the opportunity to pursue their desired courses and only through education we can transform the fate of our community. MIC will always focus on ways to make education more accessible to the deserving youth," he added.
"As for those non B40 students who obtained 4.0 CGPA and desire to pursue medicine could still apply and MIC will refer them to MIED for study loans," Vigneswaran said.
This pleasant announcement was welcomed and received with thunderous applause and cheers from the crowd.
https://kualalumpurpost.net/mic-offers-50-medical-seats-for-students-with-stpm-4-0-cgpa-with-full-scholarship