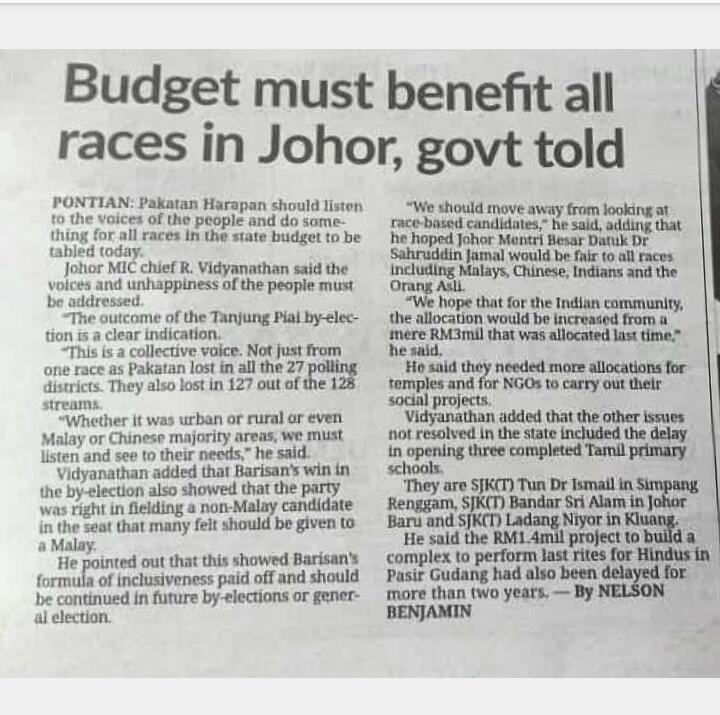 PONTIAN: Pakatan Harapan should listen to the voices of the people and do something for all races in the state budget to be tabled today.
Johor MIC chief R. Vidyanathan said the voices and unhappiness of the people must be addressed.
"The outcome of the Tanjung Piai by-election is a clear indication.
"This is a collective voice. Not just from one race as Pakatan lost in all the 27 polling districts. They also lost in 127 out of the 128 streams.
"Whether it was urban or rural or even Malay or Chinese majority areas, we must listen and see to their needs," he said.
Vidyanathan added that Barisan's win in the by-election also showed that the party was right in fielding a non-Malay candidate in the seat that many felt should be given to a Malay.
He pointed out that this showed Barisan's formula of inclusiveness paid off and should be continued in future by-elections or general election.
"We should move away from looking at race-based candidates," he said, adding that he hoped Johor Mentri Besar Datuk Dr Sahruddin Jamal would be fair to all races including Malays, Chinese, Indians and the Orang Asli.
"We hope that for the Indian community, the allocation would be increased from a mere RM3mil that was allocated last time," he said.
He said they needed more allocations for temples and for NGOs to carry out their social projects.
Vidyanathan added that the other issues not resolved in the state included the delay in opening three completed Tamil primary schools.
They are SJK(T) Tun Dr Ismail in Simpang Renggam, SJK(T) Bandar Sri Alam in Johor Baru and SJK(T) Ladang Niyor in Kluang.
He said the RM1.4mil project to build a complex to perform last rites for Hindus in Pasir Gudang had also been delayed for more than two years. — By NELSON BENJAMIN