KUALA LUMPUR: Two separate protests were held here today to oppose the execution of Malaysian Nagaenthran K Dharmalingam in Singapore next Wednesday.
Anti-Death Penalty Asia Network (Adpan) and Lawyers for Liberty (LFL) staged a protest outside the Singapore High Commission here. The MIC Youth also held its own rally there.

A spokesman from LFL hoped the Malaysian government would intervene and bring Nagaenthran home through an international prisoner transfer programme to serve his sentence here.
"This is our last-ditch effort. We're here to show our displeasure to the Singapore government over the execution. Please save Nagaenthran," he told reporters.

Nagaenthran, 34, who is mentally disabled, was arrested in 2009 for trafficking 42.72gm of heroin into the city-state and was handed the death sentence the following year.

Believed to have an IQ of 69 — a level recognised as a disability — Nagaenthran had failed in his clemency bid and his case has since sparked widespread criticism, with the European Union and British billionaire Richard Branson among those condemning his scheduled execution.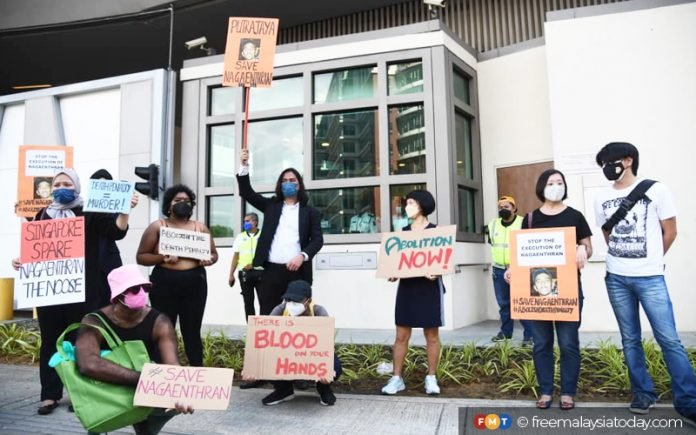 About 100 MIC Youth members showed their support for Nagaenthran, chanting: "Justice, justice! Justice for Nagaenthran."
"We plead with the Singapore president to release Nagaenthran, who has a low IQ. He should not be executed in keeping with international standards," MIC information chief T Thinalan said.

Many held placards reading "Stop the execution of Nagaenthran", "Putrajaya save Nagaenthran", "Singapore spare Nagaenthran the noose", and "Protect the disabled, not kill them".
The protests started at 4pm, with a small police presence. The 150-strong crowd had dispersed by 5pm.